---
Lotus-flower-shaped building to have a charitable purpose
The next "Wonder of the World," Mohan Vijay hopes, will be a spectacular building in the shape of a lotus flower. Once Mr. Vijay's first lotus building is built in Ottawa, he envisages others to be constructed in other major cities worldwide.
If his dream comes true, his building will not be the only one in the world shaped like a lotus. The Bahá'í House of Worship in Delhi, India, better known as the Lotus Temple, is of a similar design. "But it's shaped like a bud. And it is a place for meditation and prayer," notes Dr. Vijay. "My idea is to have an open flower. I want mine to be a business centre that generates money for charity."
On each petal, he says, there will be a statue of a mother holding a baby, "symbolizing the tenderness, love and needs of a child." Each building will also have a dramatic pond filled with lotus flowers and various aquatic life.
On a more practical scale, he foresees that each petal will contain office space that wealthy tenants will gladly rent, knowing that any profits to the landlord will be going to worthy charitable endeavors to help children. "The lotus is a symbol of friendship, harmony, love, peace, purity and understanding," says Dr. Vijay. "I have to believe these are qualities that many people, whether they are in business or not, support and can relate to."
Although seemingly grandiose ideals, his supporters note that Dr. Vijay is very practical. "Mohan's discipline, focus and perseverance sometimes remind me of the warriors of old times," says Stefan Sicking, a foundation board member who is the president of Viking Consulting Ltd. "The symbolism of the lotus flower is very empowering and I hope we can translate his vision into a realistic business plan that will attract likeminded donors."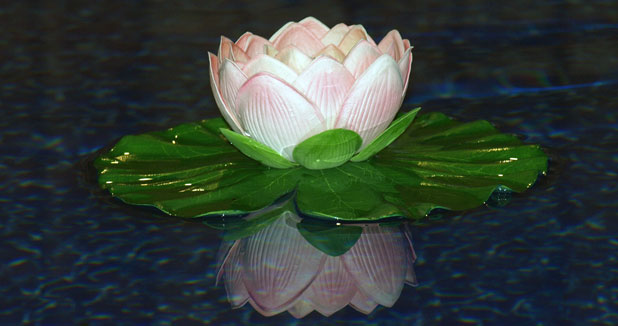 ---
Philanthropic-minded scientist sees humanitarian uses of his technology
Although Mohan Vijay's main charitable purpose is to raise money to help children around the world, he does not restrict his philanthropic work just to young people.
"He also wants to use his water jet cutting technology for humanitarian causes," says his daughter, Sangeeta Vijay.
The technology Mohan invented and sold - a high-frequency forced pulsed water jet - was developed for use in industries such as aerospace to remove coatings from aircraft parts and equipment. Yet, Mohan and his daughters see other, potentially lifesaving humanitarian uses for the powerful device.
"One major application would be to safely detonate landmines in countries where there has been war," says another daughter, Dr. Sheela Vijay. Both daughters sit on the VLN board of directors.
When the International Campaign to Ban Landmines was launched in the early 1990s, it estimated that more than 100,000 million landmines were hidden in the ground of some 60 countries. Several thousand people are injured or killed every month after stepping on one of them, adults and children alike.
Mohan Vijay believes his powerful, pulsed waterjet produced by electrodischarge technique can effectively neutralize landmines, helping to safely reduce the problem. Similarly, it could be used to disable a bomb set by a terrorist or other criminal.
"The ubiquitous pulsed waterjet, currently used to neutralize bombs, is produced by detonating an explosive," Mohan explains. "The explosion, which occurs in a small chamber behind the nozzle, produces a very powerful pulse of water. If the bomb is not neutralized the first time, the chamber needs to be reloaded with a new explosive and the process needs to be repeated. This step is totally eliminated in the electrodischarge technique, where the pulse of water is produced by an electrical spark in the nozzle, just like the spark plug in the automobile engine. The energy needed to produce the spark is produced by a small capacitor, like the battery in the car. Just as done currently, the electrodischarge nozzle can be mounted on a robotic arm."
Several years ago, Mohan and Sheela met with a delegation from Cambodia, where landmines are a constant problem for the nation's farmers. "One man lost half his family to the mines," he says. "It was heartbreaking to hear his story."
Despite lobbying efforts with the likes of Lloyd Axeworthy, the former Canadian federal cabinet minister who was nominated for a Nobel Peace Prize for his work in trying to ban landmines, Mohan has not been able to elicit support for his invention.
"I am hoping I can get some funding from the United Nations to help improve my invention," he says. "Right now the device is a bit large, but I have a way to reduce it to about the size of a knapsack."
Although frustrated at the lack of response from those in power, Mohan is undaunted. "I know it works and that it can help. I will not give up. Never."